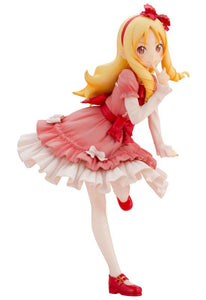 Elf Yamada, the self-proclaimed "great novelist" from Dengeki Bunko's popular work "Eromanga Sensei", is turned into a 1/7 scale figure!
Her pink lolita dress, including the frills and the pannier that creates a lovely silhouette, is sculpted faithfully.
Her distinctive ringlet curls and beautiful blond hair that make her look like a fairy, as well as of course her cute ears, the ribbons in various parts of the dress and her thigh-high socks, are recreated in minute details.
Be sure to add her confident smile to your collection!