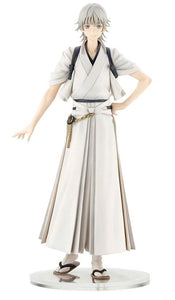 In the world of "Touken Ranbu: Hanamaru," swordsmen known as Token Danshi carry out their "Hanamaru" lives in the "Honmaru" citadel. Tsurumaru Kuni
naga, the human incarnation of a legendary sword, appears in ARTFX J Series wearing his white under‐kimono.
Even in his simple white under‐kimono, Kuninaga's character design is faithfully recreated in
fine detail, as is visible from his accessories down to his feet peeking out the bottom of the kimono.
Display the exquisitely detailed "ARTFX J Tsurumaru Kuninaga" by himself with Kotobukiya's
Mitsutada Shokudaikiri or Hasebe Heshikiri to recreate the world of "Touken Ranbu:Hanamaru!"
1/8 PVC(Phthalate‐free)・ABS
223mm 5.31in.
(C)2016 TOUKEN RANBU HANAMARU project