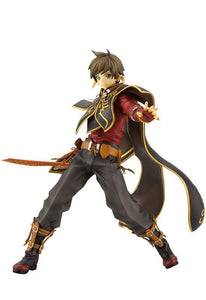 From the popular RPG "Tales of Zestiria" comes a renewed version of the figure of the protagonist Sorey wearing the shepherd color variation outfit!
The clan whose members have no individual name, just pass down the name Mayvin.
The Mayvin clan is destined to travel around the world while using this name which means "care giver". The outfit depicted on Sorey for this figure is one obtained by clearing a sub event involving the Mayvin's called "shepherd color variation".
The standard shepherd outfit's main colors, white and blue give it a fresh look while this color variation instead uses black and red for the main colors for a bold majestic feel. The result is a figure that seems to express a Sorey that is matured in body and mind from his travels and the many people met along the way.
The cloak that has been well used along the long journey is expressed in part with fine color gradation. As well the gold trim design gives it an appearance of luxury.
This figure really bring out Shepherd Sorey's charms to their fullest so add it to your collection today.