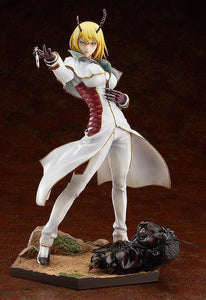 "This mission is my life's purpose."
From the popular manga with an anime series under way, 'Terra Formars', comes a 1/8th scale figure of the young sub-leader of the Mars Exploration team, Michelle K. Davis. She has been sculpted in her Officer spacesuit.
The figure shows Michelle half-transformed with mutated fingers and antenna extending from her head as she stands as confident as ever. The base itself brings out the atmosphere of the series, and the corpse of a Terraformar is also included to lay by her feet, bringing out even more of the Terra Formars universe for fans to indulge in!