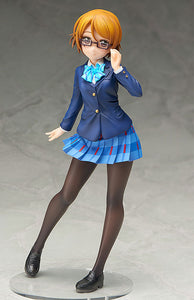 "NicoRinPana" jumping out from the radio and into the figure world!
"NicoRinPana" refers to the three Mu's members "Nico Yazawa", "Rin Hoshizora" and "Hanayo Koizumi" together as a single unit - from that unit comes a figure of Hanayo Koizumi!
The figure is based on the CD jacket illustration from the "'Love Live! Mu's PR Team -NicoRinPana- vol.3" CD, and features Hanayo dressed in her school uniform wearing her glasses! Nico Yazawa and Rin Hoshizora are also planned to be released, allowing you to enjoy the full charm of NicoRinPana in your collection!