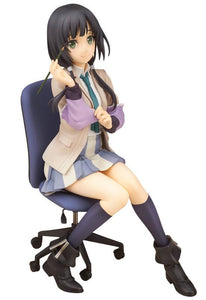 From the anime "SHIROBAKO" about an anime production studio comes a figure of the animator Ema Yasuhara!
She is sculpted sitting on chair, in a posture showing a moment in her daily work life.
Her soft smile and lively eyes let you see her motivation as she adjusts her arm covers with a pencil in her hand, prepared to continue her job as an animator. The lever and caster wheels on the chair are also finely recreated.
An envelope for drawn scenes of the same scale as the figure and 2 genga of "Daisan Hikou Shoujotai", the anime she works on in the series, are included.
Use these accessories together with the figure to reproduce the atmosphere of the series.