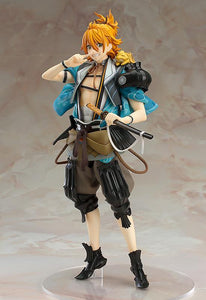 "Urashima Kotetsu, heading into battle!"
From the popular browser and smartphone game "Touken Ranbu Online" comes a 1/8th scale figure of Urashima Kotetsu based on his standard standing illustration from the game!
His spirited smile, the intricate wave patterns on his kimono, his tied up bright orange hair and the rigid armor that covers various parts of his body have all been captured as faithfully as possible for fans to enjoy Urashima Kotetsu by their side. Be sure to add him to your collection!