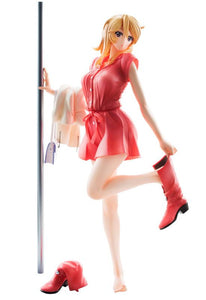 Sculptor: Hiroman
Paintwork: Taumokei (cooperation: Pinpoint)

Yuki Mori from "Space Battleship Yamato 2202" joins the "Yamato Girls Collection" (YGC) with a new sculpture.
She is sculpted with the familiar casual outfit seen in posters and in the movie.
On her left hand she is wearing the engagement ring given to her by Susumu Kodai, and other details such as her blouson and bag are also included.
She is portrayed in a ladylike pose as she puts on her boots, showing an elegant expression that cannot be usually seen during battles.
Be sure to make this figure yours to enjoy Yuki Mori's precious private scene!
©西﨑義展/宇宙戦艦ヤマト2202製作委員会